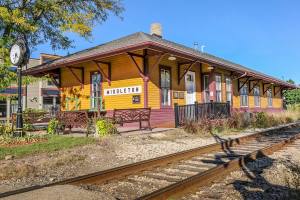 1811 Parmenter Street
The Museum at the Depot showcases displays that illustrate the history of Middleton's origins and growth including:
•    A timeline of significant events in Middleton's history.
•    An elaborately furnished Victorian dollhouse.
•    Artifacts from Middleton's early immigrants.
•    An exhibit highlighting the farm equipment used in the area.
•    Historic photos and documents of Middleton landmarks.
Recently, a display of WWII memorabilia was added that focuses on Middleton during the wartime years. Items include pages from Wisconsin newspapers in the 1940's, as well as numerous artifacts from the period … be sure to stop by and view this informative collection of information!